The roller briquetting press is a kind of briquetting machine that is widely used in the industry area today. Those powdery materials and waste, which need to be used in the furnace; those fuel materials, which need to be formed together to get a better heating effect, and other materials, which need to be used as a shape like ball or pillow with certain size, etc. all need the roller briquetting press to take the briquetting work.
Working principle
Feed the raw material to the hopper on top of the roller press, then it will go to the lower roller pressing area through gravity or a force feeding system.
In this roller pressing area, there are two same pressing rollers with ball-pockets on the surface, which rotate at a constant but opposite speed. When the material enters the bite angle between the two rollers, it is gradually compressed as the bite angle is reduced. At the moment when the two ball-pockets coincide, the briquetting pressure reaches a maximum and briquette is made. then, the two ball-pockets are opened and the briquette begins to elastically expand and fall off.
In the roll briquetting press machine, the raw material is pressed on both sides, and the pressure from each roller is the same.

Binder way and Binder free way
Briquetting is a work which materials combine together from the input force, and keep stable with the internal combining force between the raw particle materials.
Binder is a material to keep the materials stay stable together.
But not all kinds of materials need to add binder to make the briquette. Some materials have its own inherent binding properties. When we are working under the proper conditions, suitable moisture, suitable pressure, suitable briquette size, suitably designed plant, etc., it will be suitable to make the briquette without binder.
But most of the materials need to add binder to the briquetting process, add binder not only reduce the pressure required on the briquetting process, but also improve the characteristics of the briquette.
Raw material
Some binder free raw material examples
Bentonite, Clay, Lignite, Quicklime, Salt, Gypsum, etc.
Binder way material examples
Coal, Charcoal, DRI, Mineral, Coke, Mill scale, Aluminum Dross, Pigment, etc.
Find the whole list.
Free material testing is available.
Finished briquette
Finished briquette can be varied in shapes and sizes.
Common shapes are round (ball), pillow, square, etc.
Maximum size can be up to more than 100mm (for those type with large rollers).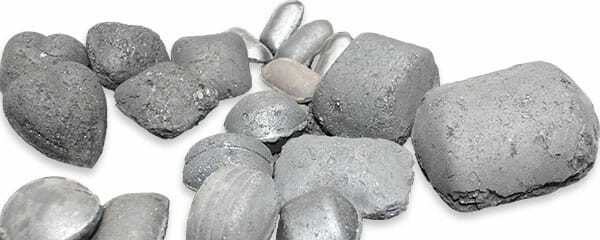 Custom sizes and shapes are available for the finished briquette.
Feeding structure
Feeding structures are of different types. Common feeders are gravity feeder and force feeder.
Gravity feeder is the most common feeding way, it lowers the investment as well as the electric consumption.
Force feeder is used as a homogenization and initial material compaction as well as overcoming the resistance of flow caused by damming in the outlet. It provides beneficial effects of an increase in material pressure, an increase in the compaction degree, and ensuring the uniformity of the flow, is a means of metering, deaerating and pre-compacting material. It guarantees stable product quality as well as increased briquetting efficiency.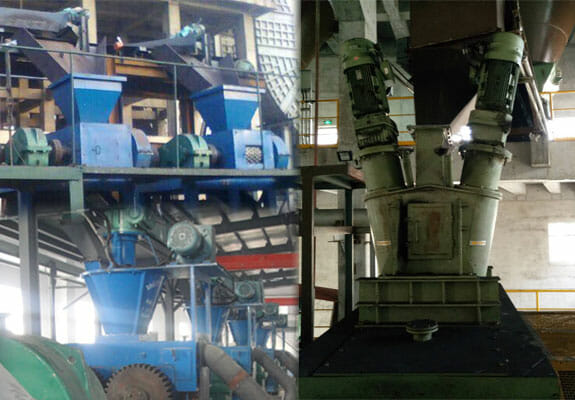 Hydraulic system
The hydraulic system is used to provide pressure to the hydraulic tank, the pressure forces the floating roller closer to the briquetting materials and the stationary roller.
Pressure can be adjusted at any time to meet your special work demands.
It is also used as a safety device when the material is pressed into the gap of the rollers. The electronic control system will control the hydraulic system to prevent the rollers from damage when overloaded or blocked.
Wedges-support roller is also available for those low pressure output roller briquetting press with much lower price while stable working condition.

Our super pressing type roller briquetting press
Industry usage
Roller briquetting press is widely used in industry, main areas are:
Chemical area;
Minerals and ores;
Steel industry/Metallurgy;
Industry waste and by-product;
Coal, charcoal, carbon-based products;
Salt industry;
Etc.
Features
Easy eject custom pocket sizes and shapes;
High standard super wear resistant alloy;
Easy maintenance;
Variable speed roller and force feeder drives to higher product quality;
Three types of roller briquetting press for sale
Single shaft roller briquetting press
Use wedges as the roller support. Much lower price than hydraulic types.
Stable operation, simple structure, easy to operate.
As many common materials do not need a high pressure on briquetting, this type highly reduce the investment when setting up your briquette plant.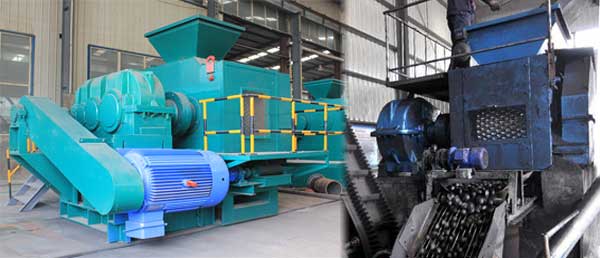 Parameter
| Model | Roller Diameter (mm) | Roller Width (mm) | Total Pressure (kN) | Linear Pressure (kN/cm) | Output Capacity (m3/h) | Main Motor Power (kW) |
| --- | --- | --- | --- | --- | --- | --- |
| ZY4320 | 430 | 200 | 1000 | 50 | 2.7 | 30-37 |
| ZY4332 | 430 | 330 | 1000 | 30 | 4.5 | 30-37 |
| ZY5335 | 520 | 250 | 1500 | 50 | 4.1 | 45-55 |
| ZY5242 | 520 | 420 | 1500 | 30 | 7 | 45-55 |
| ZY6540 | 650 | 400 | 2200 | 50 | 9.6 | 75-90 |
| ZY6560 | 650 | 600 | 2200 | 30 | 14.4 | 75-90 |
| ZY7548 | 750 | 480 | 3000 | 50 | 11.5 | 132-160 |
| ZY7568 | 750 | 680 | 3000 | 30 | 16.6 | 132-160 |
| ZY10090 | 1000 | 900 | 4500 | 50 | 27.5 | 2*(110-132) |
Hydraulic single shaft roller briquetting press
Work with the hydraulic system, pressure easy adjustable.
Equipped with single shaft reducer.
Internal materials improved to support higher pressure.
Force feeding to improve briquetting performance.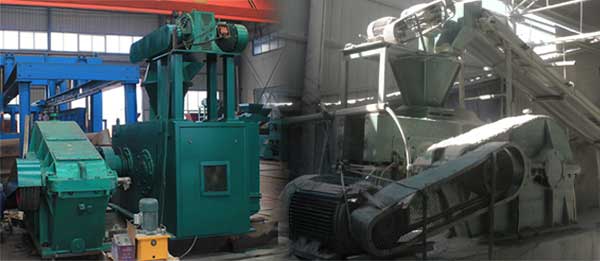 Parameter
| Model | Roller Diameter (mm) | Capacity (t/h) | Max. line specific pressure (t/cm) | Power (Kw) |
| --- | --- | --- | --- | --- |
| 530 | 530 | 2-4 | 5 | 45 |
| 650 | 650 | 5-8 | 6 | 55-75 |
| 750 | 750 | 8-12 | 6 | 90-132 |
| 850 | 850 | 9-15 | 8 | 132-200 |
Hydraulic double shaft roller briquetting press
This type supplies a very big pressure for those materials which need a high linear pressure.
Equipped with a double shaft reduce which combine each shaft with the rollers.
The main frame is designed to support the high pressure. Use special coupling to keep the system safety and a longer service life.


Parameter
| Model | Roller Diameter (mm) | Total Pressure (kN) | Linear Pressure (kN/cm) | Capacity (m3/h) | Main Motor Power (kW) |
| --- | --- | --- | --- | --- | --- |
| GY430-100 | 430 | 1000 | 80-110 | 1.3-1.5 | 22-30 |
| GY520-150 | 520 | 1500 | 80-110 | 2-2.7 | 55 |
| GY650-220 | 650 | 2200 | 80-110 | 4.8-6.5 | 90-110 |
| GY750-300 | 750 | 3000 | 110 | 6.7 | 185 |
| GY850-440 | 850 | 4400 | 110 | 9.5 | 220 |
| GY1000-500 | 1000 | 5000 | 110 | 15 | 280 |
| GY1200-800 | 1200 | 8000 | 125 | 23 | 280*2 |
| GY1400-1000 | 1400 | 10000 | 110 | 35 | 355*2 |
---
Contact Us